with Apple, Android and Windows devices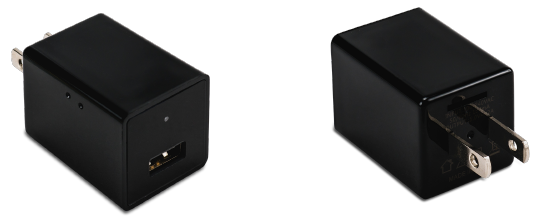 Cutting Edge Security Camera
Are you sick and tired of cheap security cameras that do not work? So are we. That is why we created the HD Mask USB Camera.
This is simply the best USB Camera on the market. We've invested in the best camera lens, the best WiFi chip, and the best materials.
You can even set up multiple cameras around your home or office to secure the perimeter and monitor everything from your phone. This gives you the monitoring power of expensive CCTV systems, without intrusive or obvious cameras.
Try HD Mask today and experience the difference for yourself. Your satisfaction is guaranteed, or you will get your money back!
Designed to be undetectable: the camera looks and functions exactly like a typical USB charger

Our premium HD 1080P camera ensures that you get the best quality video you have ever seen on a camera of this size

WiFi enabled and allows you see what is going on anytime from anywhere

Motion detection ensures that the camera is only filming when there is something going on

Alerts and notifications inform you when motion is detected so that you can immediately look at the live video stream or review the footage

Mobile application compatible with all iPhones, iPads, Samsung, and Android phone and tablets

Start / stop recording video, take pictures, set motion detection settings, set alerts all from your mobile device

No battery required: never worry about running out of power
---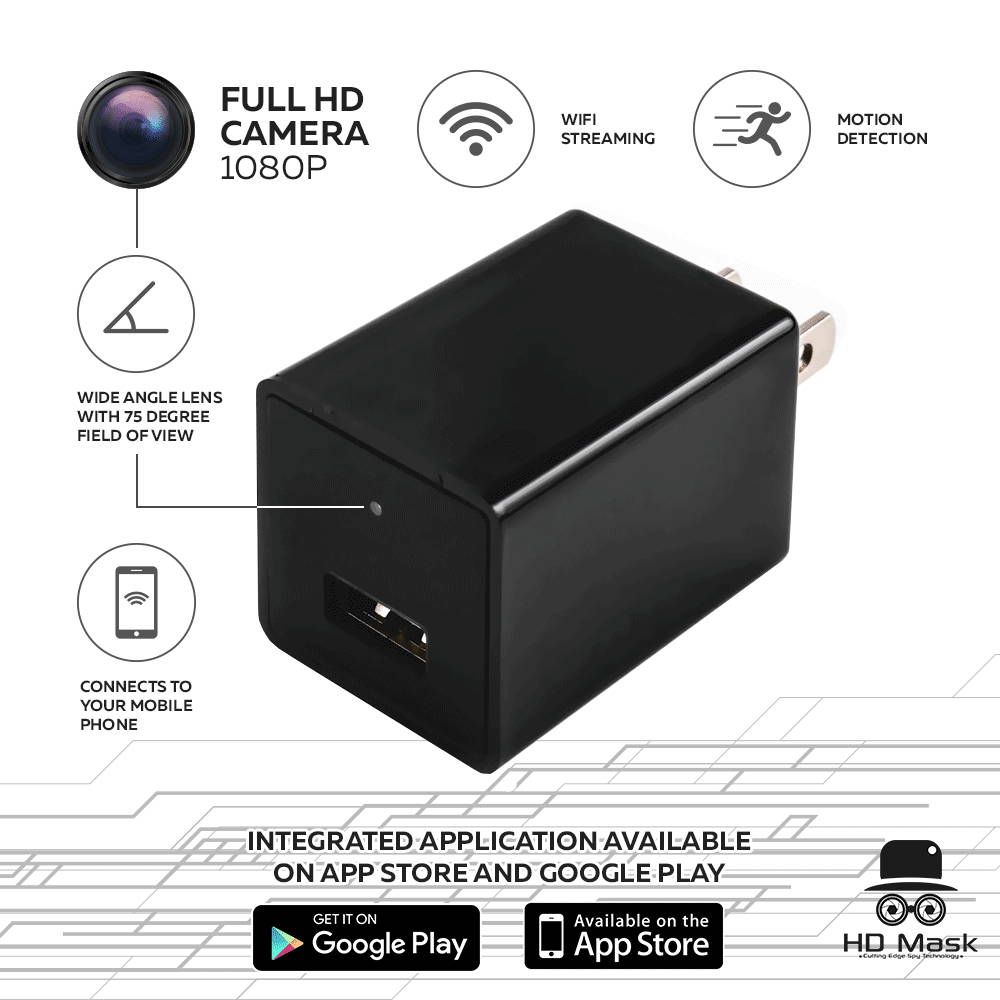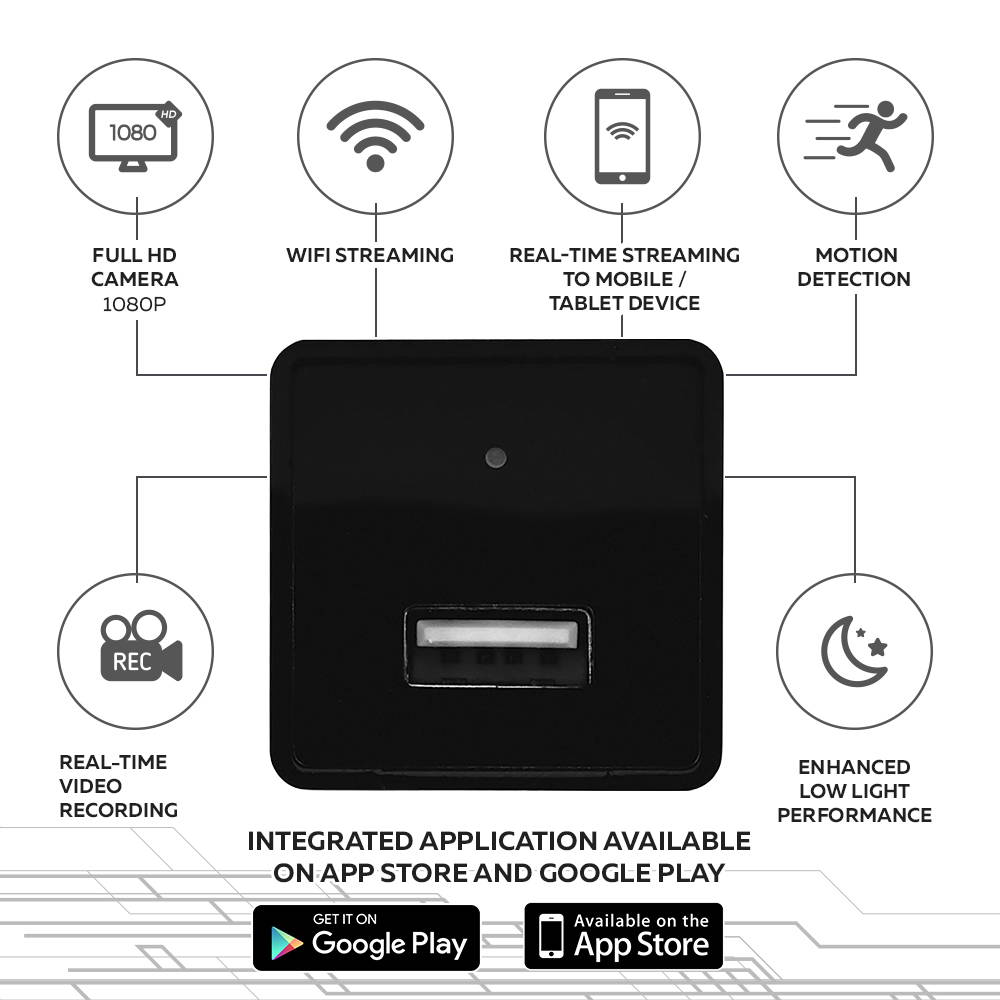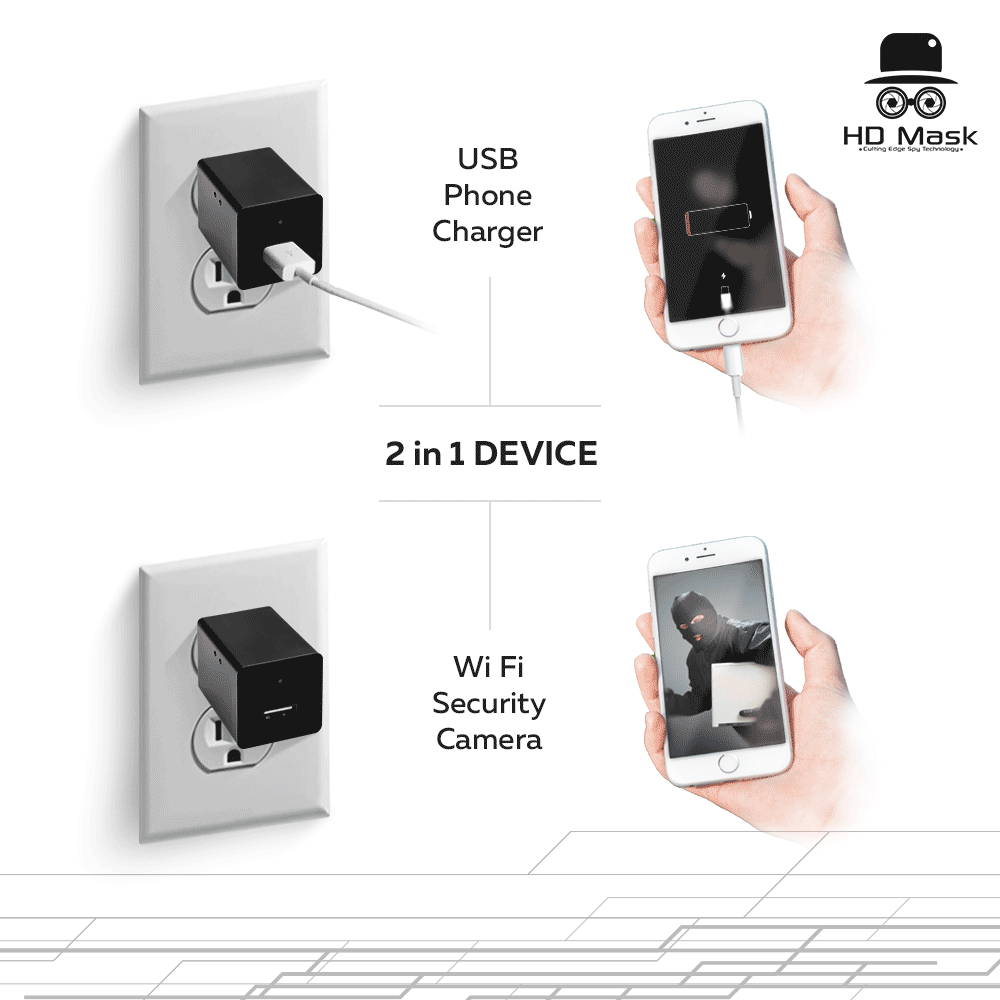 Over 1 Million Hours of Footage Recorded
Satisfaction guaranteed with our 1 year warranty. Join our list of happy customers:
What Makes HD Mask Different?
24/7 Recording
Capability

2.4GHz Wireless
Streaming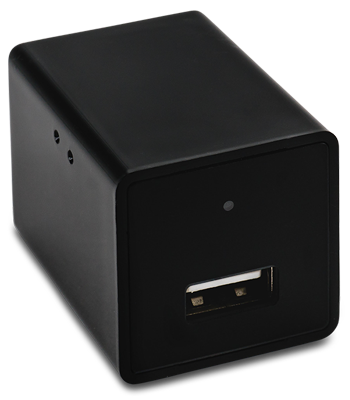 24/7 Monitoring – No Battery Required
WI-FI STREAMING FOR 24/7 REMOTE ACCESS
REAL-TIME STREAMING TO MOBILE/ TABLET DEVICE
MOTION DETECTION, NOTIFICATION AND RECORDING
REAL-TIME HD VIDEO RECORDING
WIDE ANGLE LENS WITH 90 DEGREE FIELD OF VIEW
ENHANCED LOW LIGHT PERFORMANCE
ALERTS, NOTIFICATIONS, TIMERS & OTHER SMART FEATURES
Watch this simple introduction video to discover a few of our key features!
---
Powerful military grade features, monitor and control your camera from anywhere in real-time directly from your phone, automatically record only when motion is detected, HD 1080p video recording with wide angle view.
Motion Detection
Our state-of-the-art motion detection feature enables you to automatically record only when motion is detected, to free you from having to sit through hours of footage.
WiFi Streaming
You can start & stop recording video & sound directly from your phone.
Completely Hidden and Powerful
HD Mask is loaded with powerful military grade security features but it looks and functions exactly like your standard USB phone charger.
Crystal Clear Video
HD 1080p video and sound recording ensures that video quality is always crystal clear.
Shop Safe With Our 1 Year Warranty
We've created the best security camera available on the market today and we are proud to stand behind it with our 1-Year
Continuous Loop Technology
Loop recording technology automatically replaces old footage to ensure that the camera can record 24/7 x 365.